The world is an amazing place, full of adventures and interesting cultures. And yes, traveling is something that everyone enjoys, but not all of us know how to plan an international trip properly, so we published this ultimate step by step guide to help you in this task.
Travel can change us in so many ways and an international trip is an experience everyone should have at least once.
Allowing yourself to discover the wonder of the world is one of the best gifts you can treat yourself with, but making it happen might seem hard, isn't it?
We have all been there and felt the goose bumps when planning the first international trip. Few sensations will be as exciting as planning a vacation overseas.
It can be scary, but it is also one of the best moments of your whole travel experience, so we suggest you enjoy it as much as you possible can, after all a good trip is a very well planned one.
No matter if it's your first or umpteenth trip, the tips listed on this guide will be useful for all kinds of travelers. Come see our complete list of trip planning tips.
STEP 1 – CHECK YOUR AVAILABILITY FOR TRAVELLING
The first step in planning your trip is to set the duration of your holiday and the availability of days for traveling.
This is a very important steo, because from there you will be able to search destinations according to season, weather, number of days to offset, attractions, etc.
For example, there is no point in planning a trip to Asia or Oceania if you have only 15 days available for your vacation because only international filghts you will end up taking away about 3 days from your first number, leaving only 12 to enjoy the final destination.
However, there  is not a perfect recipe to set the amount of ideal days for each destination, but we know that the ideal guide is if you have only few days you should pick a closer destination, on the other hand, if you have a larger amount of days for your holiday, you can venture into more distant destinations  and can make the most of the experience.
Following this basic premise you will be able to plan a coherent and satisfying trip.
STEP 2 – CHOOSE YOUR DESTINATION
The choice of the destination for your vacation is a one of the most difficult steps, after all, probably all of us want to visit most of the countries in the and choosing only one or few of them is a chore.
To set your destination you should consider the following variables:
# YOUR BUDGET
We know that travel costs vary according to the chosen country . There are countries with average super low costs, others with high costs and other super averaging intermediate costs.
First thing you need to know is what budget for the trip and accordingly choose your destination.
Choosing Switzerland as your destination – one of the most expensive countries in the world – with a low budget, isn't a good idea because you will have to sacrifice lots of attractions and experiences there. It is not a good idea to choose a destination that will limit your choices!
Be aware of the following guidelines:
You can make such an amazing trip through Asia and Central America with a low budget, so there are plenty options.

Most countries in Europe, South and North America require an intermediate budget, so be sure to follow this pattern.

Countries such as Switzerland, Japan, United Arab Emirates and Nordic countries such as Sweden, Finland, Iceland and Norway are extremely expensive and require a high budget.
To save money, a good idea is to travel in the low season to each destination, as prices tend to be lower and it is possible to visit all attractions.
If your are planning to travel to Europe you must know that from September to November you will find great opportunities because the weather is still mild, prices are lower and you will avoid crowd.
# WEATHER
Another factor to be considered in the choice of destination is the weather.
You need to set whether to you want to travel to cold places with snow or if you want to visit beaches or even if you want to travel to see the spring flowers or orange autumn trees.
Depending on this setting, you will choose a destination that is aligned with the desired travel experience.
North hemisphere
Spring: March 21 to June 20
Summer: June 21 to September 20
Fall: September 21 to December 20
Winter: December 21 to March 20
South hemisphere
Spring: September 21 to December 20
Summer: December 21 to March 20
Autumn: March 21 to June 20
Winter: June 21 to September 20
You should also research the and characteristicsof each destination, as some countries have distinct temperatures and wheather comparing to the "general rule" of the hemispheres.
# YOUR INTERESTS AND PROFILE
Keep in mind that you need to consider whether the destination suits the interests of the travelers.
A beach in Thailand may seem the ideal destination, according to the weather conditions and your budget, but if you really like mountains, it might be better to choose a destination that has to do with you.
It should also be considered factors such as age, physical limitations and interests of travelers to make sure you choose the right place.
Traveling with children increases the accuracy in the choice of the destination,since it is essential that the destination has attractions for them.
# LANGUAGE
Although it is not an impediment, it is always good idea to choose destinations where communication can happen between you and the locals.
If you do speak English, may not be a good idea to travel to places where communication is a problem, such as Russia and China. Anyway, you can always count on the help of guides who speaks your native language.
# CHECK TRAVEL WARNINGS AND ALERTS
We suggest you check official travel alerts and warnings in advance in order to avoid real problems abroad.
There are important warnings related to serious issues like political unrest or even minor alerts for things like transportation strikes or peaceful demonstrations. So, make sure you know about the situation on your destination
It's worth checking for these notices both before you book a trip and just before you depart, so you will be covered!
STEP 3 – CHECK THE REQUIRED DOCUMENTS

The transit of travelers in different countries is governed by some internal agreements, international treaties and legislation.
According to these, the travelers may have more or less difficulty to enter in foreign territories according to the nationality.
Check  what are the most important documents for a tourist on the road.
# PASSPORT
The passport is the basic document for international identification and represent your id cart abroad.
The passport is a document issued by the country of origin of the traveler and is designed to give security to both parties: to the tourists and to the country that will receive the tourists.
# VISAS
In addition to the passport, some countries require other formalities, which is usually called visa.
The issue of visas are responsibility of foreign authorities and each country has its own procedure, so make sure you research about it first.
STEP 4 – DO YOUR RESEARCH
If you want to organize a perfect trip  you must know you will have to devote some time and energy to this plan.
Studying and researching is essential for planninf a perfect trip because only you will be able to define what is relevant and what is not interesting for your you.
Search on cities, culture and tourist attractions. Define what is important to you, if you would like to spend time on museums,  shopping, relaxing or hiking. Embrace your travel profile and discover a little more about yourself during this process.
There is a lot of content on the Internet, specially on travel blogs and travelers forums. Let the Google guide you!
You can also visit bookstores and take advantage of travel books. Have a coffee while studying about the destination and we  guarantee it will make a difference!
 STEP 5 – PLAN A COHERENT TRAVEL ITINERARY
After setting your destination, studying about it and aranging the necessary documents it is time  to plan your itinerary!
The development of a coherent itinerary is very important, so this is the time to calm down, to rationalize and avoit to make mistakes that compromise the quality of your trip.
You need to decide:
# Should I focus on one country or visit more than one?
Some regions are perfect to combine destinations whitin the same trip, such as Europe and Southeast Asia.
In these regions it is possible to move between countries without spending much time, so it is recommended that you take the opportunity to visit more destinations.
# How to get around the destinations?
The mobility between destinations is something that should be always planned with priority .
After deciding the country or region you want to visit it's time to plan how to get around between them to avoid unnecessary problems on your trip.
If you are planning to travel around Europe, for example, it is very easy and convenient to get around by train, but this is not the best option for longer distances, when flights seems the best option.
To decide the best means of transport to get around between destinations always use and indicate the site Rome2rio.
This site shows all the transportation possibilities. Click here to access the website.
You will usually have the following options: car rental, train or plane.
CAR RENTAL
If the car is the best option, you can count on the help of some websites and apps.
– To compare prices and conditions
The site Rental Cars is perfect for comparing prices and look for the best conditions in various rental companies. Click here to access the website.
– To plan routes
The Via Michelin is a site that helps you map out the best route between destinations, indicating tolls, gas stations and many other useful information to help you.
Click here to access the website.
TRAIN
The train is an excellent option for getting around in Europe. To check routes and fares we usually use the site Rail Europe – click here to access the site.

AIRPLANE
If you are lookinf for air tickets, you should first do a research on Skyscanner, that will show the available options for your destinations and dates. Click here to access the website.
The site indicates the average price of tickets and the availability of routes and seats. After checking the information you can go straight at each company site and buy tickets.
LOW COST IN EUROPE
To check the low cost airlines that operates the routes between cities in Europe we indicate the site Flylc – click here to access the site.
Their layout is not very intuitive, but the information is valuable to organize a road map Low Cost!
After checking what are the airlines operating low cost flights in the period, you must enter the sites of each to buy the tickets.
STEP 6 – DO THE MATH AND PLAN YOUR BUDGET
It is very important to do the math of your trip while you are planning to avoid unpleasant surprises.
Make a basic control on excel and put on it he most important items. Initially it is interesting to make a prediction according to your research as buy items such as transportation tickets, hotels and others you canupdate your worksheet.
These are the items that should be considered on your worksheet: Air tickets, Hotels, Transportation, Tours, shopping and food.
For food and urban transport set daily limits. For Europe, we suggest 50 Euros per day as an average, but it may be more or less depending on your needs and availability.
STEP 6 – BUY YOUR FLIGHT TICKET
Usually the air ticket is one of the most expensive items of the trip, so the purchase of it should be made with previous consideration about the plans.
It is very important to define your itinerary in advance because you can always buy a multi destinations ticket set to arrive in one city and depart from another one. This way you can save money and time!
Also, keep in mind that usually, hhe best time to buy the air tickets is three months in advance because it is when the best deals and discount room rates become available on the websites.
STEP 7 – BOOK YOUR ACCOMMODATION IN ADVANCE

One of the main decisions of a trip is the choice of accommodation because it is what will determine how you feel welcomed in a new place.
Each trip has a unique climate and just analyzing factors such as its financial availability and your traveler interests you will be able to decided the best place to stay.
There are many lodging options in different categories such as hostels (hostels), resorts, hotels, hostels, apartment rentals and even camp.
You must define what is your traveler profile and what you expect from your hosting to make the best choice.
# HOTELS, INNS AND RESORTS
An excellent site for general searches of resorts and hotels is the Booking platform.
By booking through this platform you can see the all hosting options, values ​​and availability and all the proceduras can be done directly on the portal.
+ Booking is one of the most complete and secure platforms for accommodation bookings and it is an excellent tool for travel planning.
# HOSTELS
If you are looking for a hostel, it is good idea to look at the site Hostel World, which has several affiliated merchants and offers great of security in the reservation procedure.

What we like most on this site is the fact that we can buy a "cancellation insurance" to avoid losing the amount already paid  in case of cancellation of the trip.
# APARTMENT RENTALS
For  apartments rental we indicate the incredible Air Bnb, a platform with many apartments available for short stay rents.
+ Check out our complete post about Airbnb and get all the information you need to rent your apartment.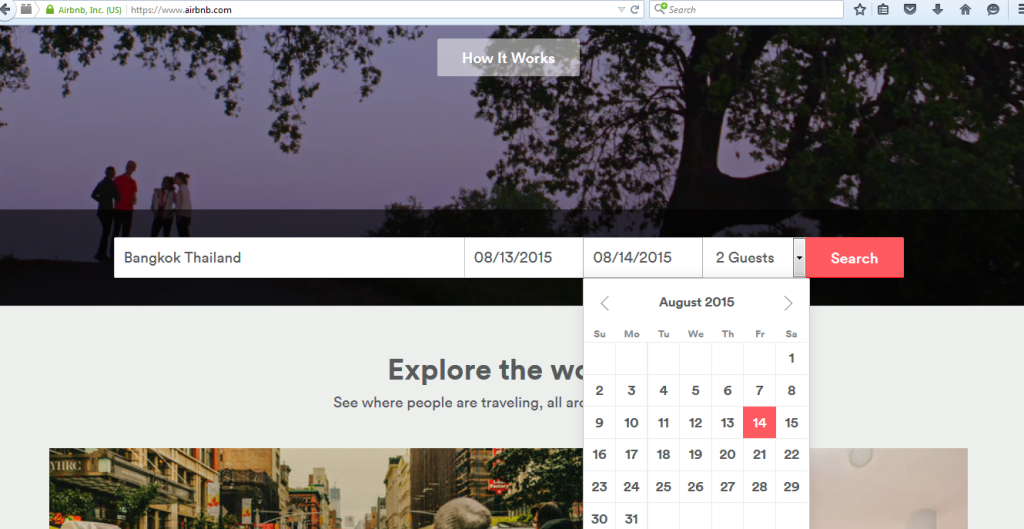 We have already tried many Airbnb around the world and we just loved all the experiences.
We believe Air Bnb is transforming the travel perspectives for many travelers and it is an excellent option for you.
STEP 8 – SET DAILY ITINERARIES + BUDGET

To optimize the maximum your stay at the destination, always try to compose a daily itinerary for your trip before leaving home.
I know it is very difficult to make itineraries that include all the tourist attractions, but you can count on the help of travel blog like ours to set  perfect itineraries for you.
To prepare daily itineraries you have to consider:
– Try to split the city by regions and one one or a few every day in such way that way you can move between attractions by walking.
– Search operating hours of the attractions, so you do not  schedule a visit whenit's closed
– Study the map of the destination before leaving home, because this way you will be able to identify opportunities in the itinerary
– Take your notes for the trip, they will be very useful.
We also suggest you to determine a daily budget for your trip and this way you won't worry about how much you need to save tomorrow!
STEP 9 – BUY YOUR TRAVEL INSURANCE

Health insurance for travel is not a luxury but a necessity.
Do not underestimate the value of being covered by insurance and hope not to need to use during your trip, as this will mean that everything went well!
Each insurance company offers different plans and it is up to you to research which one best suits your reality.
There are specific plans for seniors, for extreme sports practitioners and for different countries.
For Europe, the travel insurance is mandatory and must contain a minimum coverage of € 30,000 to ensure the implementation of medical assistance in case of illness or accident, stipulated amount for meeting all countries belonging to the treaty.
If you plan to visit the following countries will need this specific insurance: Germany, Austria, Belgium, Denmark, Slovakia, Slovenia, Spain, Estonia, Finland, France, Greece, Holland, Hungary, Iceland, Italy, Latvia, Lithuania, Luxembourg , Malta, Norway, Poland, Portugal, Czech Republic, Sweden and Switzerland. Four new members remain in the implementation phase: Liechtenstein, Bulgaria, Romania and Cyprus.
Anyway, do not leave home without your travel insurance as it will give you security against unforeseen events in their journey. Print and take the insurance letter to show during immigration procedures if necessary.
Tip: Some credit cards offer completely free travel insurance to their clients!
STEP 11 – HANDLING MONEY
Some people prefer to take all the money in cash and others prefer the take Travel Cards.

I have traveled both ways, and now I think the best idea is to split your money between different modalities and always have some "cash" available for emergencies.

It is important to remember that your card might charge you some taxes for using the credit card option abroad, so check it before leaving for your trip.
Also check with your bank if you can do international withdrawals for free. If it can be a great idea to take the card to make withdrawals abroad if the service is free or has a low cost.
Also, remember not to exchange your money on airports, because they always offer the wort rates.
STEP 12 – LUGGAGE

Have you ever hear the expression "Pack Lighter, Go Further"? Well, this is an absolute truth for travelers.
We know it's very difficult to choose what to take and leave with so many beautiful thing on your closet. But believe us: take only the essentials!
Select basic items, which can be combined and only light shoes suitable for the season.
– Search about luggage restrictions on airlines
On the website of the airline you will find a list of the items you can not take on a airplane trip and the amount of luggage allowed for each company.
Also, remember you need to get to the airport 3 hours before flight to check your bags and complete the check-in procedures.

STEP 13 – LEARN THE TRADITIONS + FEW PHRASES

Do not leave home before searching basic cultural traditions of the destination to be visited so you do not take risks to offend people and their culture.
You may come across some clothes limitations, some eating habits or even behavior prohibitions and must comply with them as much as possible and pay respect for the culture.
Be sure to also check holidays and commemorative days to avoid unpleasant surprises on your itinerary.
Although english is spoken by most of the people around the world, you will always find situations in which you won't be able to communicate in your native or second laguage.
So, learning key phrases is a very important think you need to do before you travel, specially if you want to connect with the natives and the real culture of the destination.
Simple phrases like "How are you? How much is this?" and "Thank you" will be able to open so many doors and you will find the power of this simple gesture when you fell locals are more receptive with tips or assistance. Duolingo and Memrise are two great language resources you can use before boarding!
STEP 14 – RELAX AND ENJOY!
By following these steps you will be able to put together a perfect trip independently.
Do not forget to wear comfortable clothing on the flight and take in a backpack or carry on bag essential hygiene items, valuables, camera and a lip moisturizer.
Now you just need relax and enjoy the experience!