Are you planning a trip to San Blas, Kuna Yala ? Check out the complete guide with all the information and travel tips  you need to know to organize the perfect trip.
San Blas is indeed a paradise and photos, which are already amazing, are not entitled to show the natural beauty of the place. Here's the post with all the reasons why you should visit San Blas as soon as possible!
On this post we will make it clear how much we loved San Blas and how wonderful was our travel experience to the lost paradise of the Caribbean.
Also, we will publish the most important travel tips about San Blas so you can also go and get enchanted by this wonderful destination!
SHORT INTRODUCTION TO SAN BLAS, KUNA YALA
The San Blas Islands of Panama is an archipelago comprising approximately 365 islands and cays, of which only 49 are inhabited.
They lie off the north coast of the Isthmus of Panama, east of the Panama Canal and a part of the comarca (district) Guna Yala (also spelled Kuna Yala) along the Caribbean coast of Panama is home to the Kuna Indians.
San Blas and its surrounding area is a haven for ecotourists because of its pristine environs and in addition to amazing islands, the place have an incredible forest area.
The archipelago still is not well known by many tourists , but the Europeans seems to have already discovered the destination and you will  find tourists of all nationalities, especially the Nordic countries.
Although San Blas is situated in Panamanian territory, since 1925 is an autonomous indigenous region , with minimal interference from the Panamanian government. The Indians run the place freely, are in charge for the border control and organize the entry of tourists there.
The fact that the site is ruled by Kunas helps in the preservation of local culture, but on the other hand prevents the growth of tourist infrastructure in the region. In particular, we prefer that the area is kept under the control of the Indians, so they can decide the direction of their original land.
The traveler should know that anyonewho is visiting San Blas will be treated as a guest and that there there is no culture of consumer relationship, where tourists expect to be well served such as in good hotels.
If you want to know paradise, internalize that will be the guest of the family which owns the islands and must respect the culture and take care of the place as if it was your own.
It is worthwhile to make an effort to visit this wonderful Caribbean paradise!
BEST TIME TO VISIT SAN BLAS ISLANDS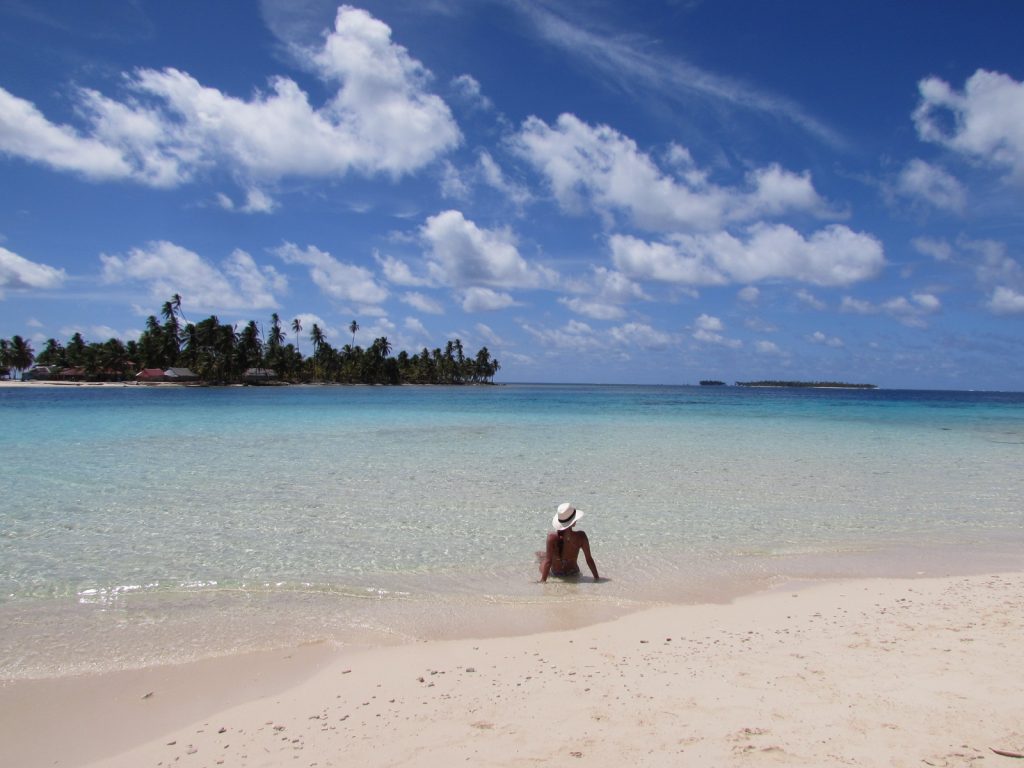 The best time to go to visit San Blas is between the months of December to April
The region is located in the tropical zone of the map and out of the way of hurricanes, therefore, the archipelago is presented with stable temperatures and extremely quiet weather all year.
However, it is important to know that between December and April , the archipelago is in the dry season with little chance of rain, when the sky is very blue, a fact which influences to the color of the water.
In these months there is practically no rain in the archipelago, a factor that makes the sea even more clear and calm, allowing trips to more distant islands like Cayos Holandeses, because the waves do not preclude such displacement.
It is common that the rains increase from May and reach a peak in October, when the volume reaches 260 mm in the month. However, the sun always has a way of showing up and hardly tourists will be deprived of tropical paradise atmosphere there.
HOW LONG TO STAY IN SAN BLAS ISLANDS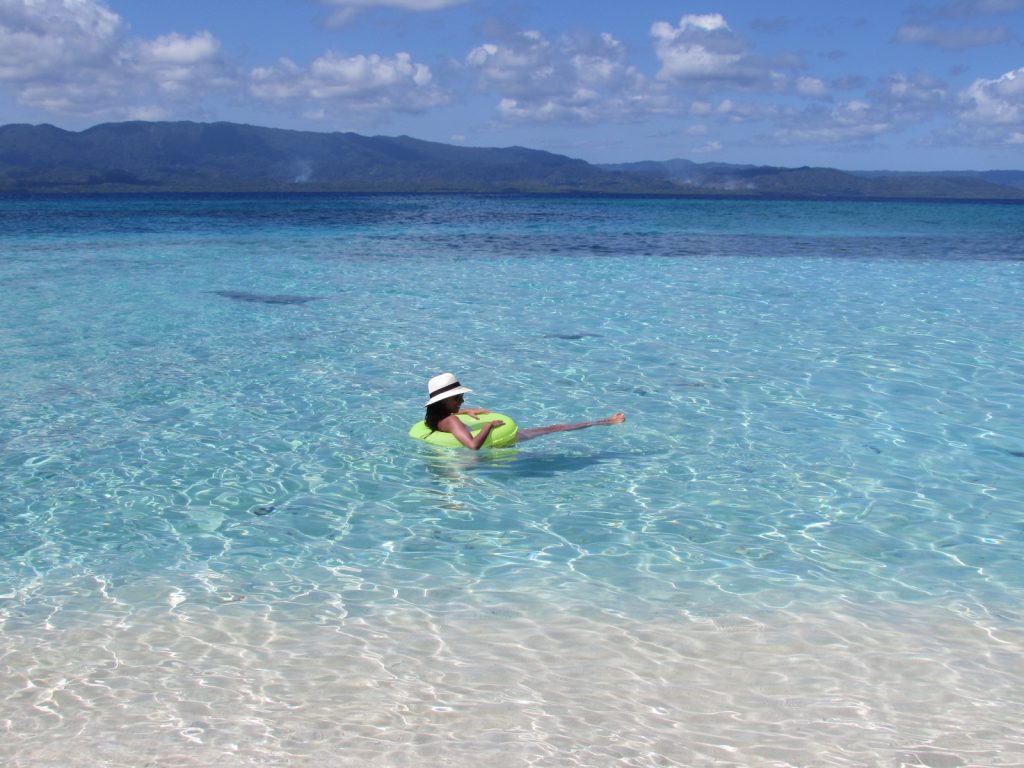 The structure in San Blas Islands is quite precarious, factor that makes tourists spend only one night or visit San Blas in a day trip from Panama City.
We had the opportunity to stay for 4 nights in Isla Fraklin and we loved the experience , in fact we would have stayed much more!
We believe this is a very personal decision and it is up to you to analyze how many days can you go without the internet connection, limited lighting, salty bath and sleeping without air conditioning in cabins with sand floor.
The description sound awful, isn't it? But the theory is much, much worse than the practice and once you get there you will forget all difficulties because the destination is SO  beautiful.
So, if you want to really enjoy San Blas, but think you have problems with these terms of structure, plan to to spend between 1-2 nights maximum.
If you do not mind and already have traveled in these conditions already, plan to spend between 3 to 6 nights because the destination is well worth all the efforts.
It's up to you to analyze your traveling conditions and check the best option for your trip
HOW TO GET TO SAN BLAS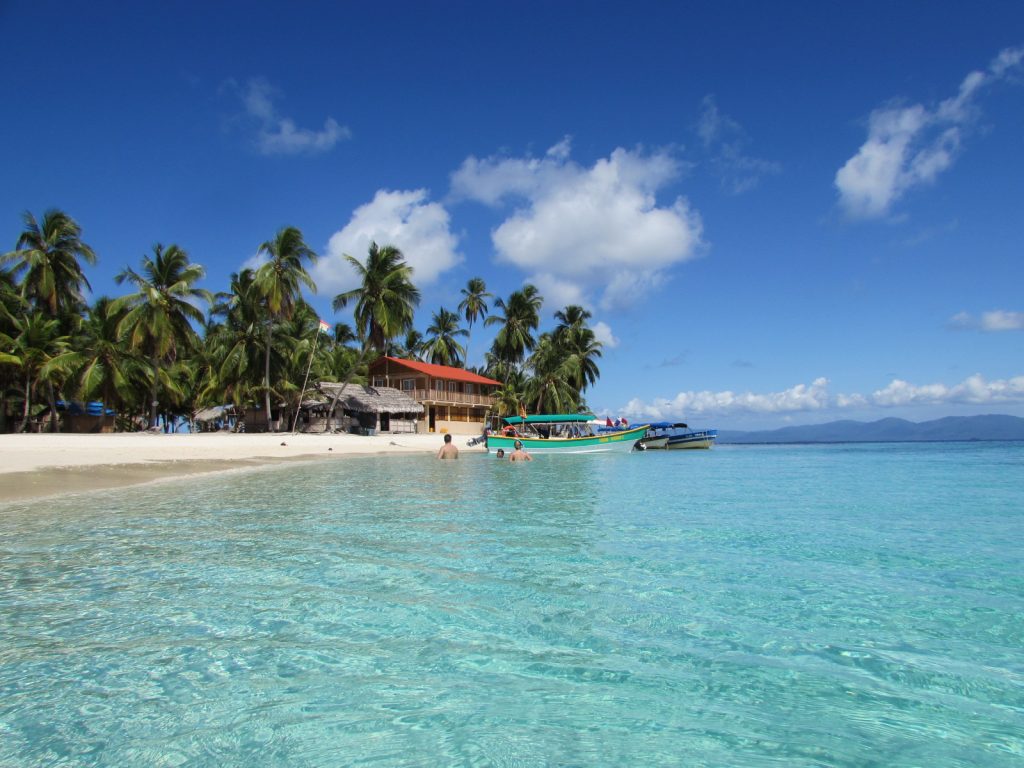 Arriving in San Blas is not an easy task, but in the end we were happy with all the difficulties we had to face because they enable San Blas to remain a paradise almost untouched today. Here 's why you should visit San Blas as soon as possible!
The difficulty in reaching the islands makes of a day trip just to San Blas not a good idea, because you will not be able to enjoy the beauty and good energy of this beautiful destination in a few hours. You will end up spending more time in displacement than relaxing at the beach.
However, if this is the only option you have available, know that you can take a day trip from Panama City San Blas and the best way to do it is to join an agency excursion.
If, like us, you prefer to stay more than one night in San Blas, know that you will be enchanted by this beautiful archipelago and it is possible to reach paradise by car, plane or sailboat and on this post you will find all the information you need.
# How to get to San Blas – Car + Boat
Although you can rent a car to visit San Blas on your own, we do not indicate this option, because it creates more stress to the visitor and is a cost a lot more if you decide to sleep there.
So the best way to arrive in San Blas is taking a shuttle, either with an agency or negotiating with the driver on your own.
To reach the islands, it is necessary to drive for about two hours and then take a boat which takes about 30 minutes to arrive at your destination island, in our case, the Franklin Island.
It may even seem simple, but the big problem is the 100km highway, whose first 60 km are in great condition and the remaining 40 km are extremely painful for travelers.
There are many curves in different directions, which made everybody in the car get sick, so do a favor to yourself and take a anti nausea medicine before boading to this adventure.
You will be left on the port destination island boatman search visitors and from there you can follow your jourey on your own.
From the port, you can take the boat to the island you want to visit and generally the return trip cost around $ 20 .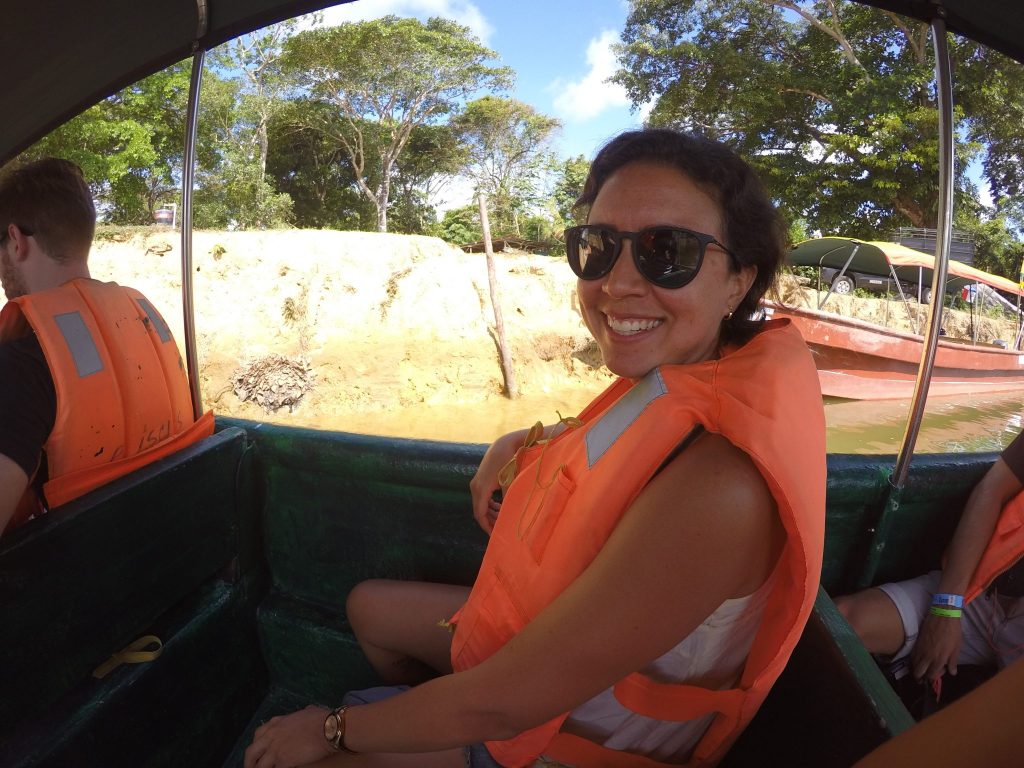 Do not be alarmed, because the water in the harbor is really dark, but upon arriving in the islands sea warer will clear and show amazing shades!
In the port, pay attention because there is a kind of organization for the different island, and there are specific seats for each one of them. So, when you arrive there, find the correct location of your destination island and wait for the boat to arrive!
# Getting to the port
Drivers are used to make this journey every day, so they can get quickly to the destination port.
But, you can rent a car to go there on your own and keep in mind that Waze app works well on the highway and you will have no have problems to find the port.
If you prefer to go with experienced drivers you can book tour with travel agencies, including on the Hostel Mamallena. You can also contact drivers your own.
We used the service of the driver Agapito (tel +507 6156 7623) and we considered it good, but not excellent. The  round trip cost $ 50 per person and we arranged with the driver the day we would like to get back and he waited for us on the port.
# How to get to San Blas by Plane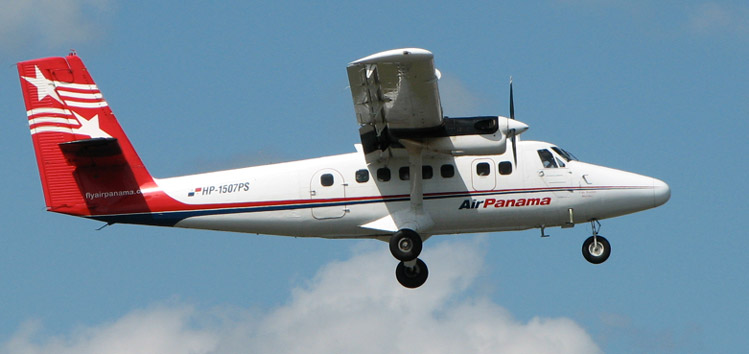 You can get to San Blas by plane, flying with  Air Panama .
Flights out of Panama City (Albrook Airport – CAP) towards the airport El Porvenir, Guna Yala (PVE) takes about 20 minutes and is a pratical way to get there.
The planes are very small and not well mantained , but there are no reports of accidents untill now.
From the airport in San Blas, you can catch a boat to the island of your choice and it is important to note that you must set the details of your trip with the boatman in advance, either by your own or through a travel agency.
# How to get to San Blas by Sailboat
Exploring San Blas by sailing is an amazing alternative as most boats offers rooms, shared bathroom and 3 meals a day.
By sailing, you can spend up to seven days on a tour through several islands and it is no doubt an unique way to enjoy the most of the paradisiacal destination.
Despite being a considerably more expensive than to stay in the islands, the boat allows you to know the most beautiful islands of San Blas and in an exclusive way.
A good idea is to hire the boat ride with a group of friends or family  for a few days and this way, the trip will be more comfortable and fun.
For those traveling alone, an excellent alternative is to choose the tour with young sailboats, which have a party atmosphere!
Prices vary greatly depending on the sailboat facilities, but the cost $ 100 to 200 a day on average.
The Sailing Experience life is one of the most popular sailboats, as well as the San Blas Sailing and San Blas Adventure.
WHERE TO STAY IN SAN BLAS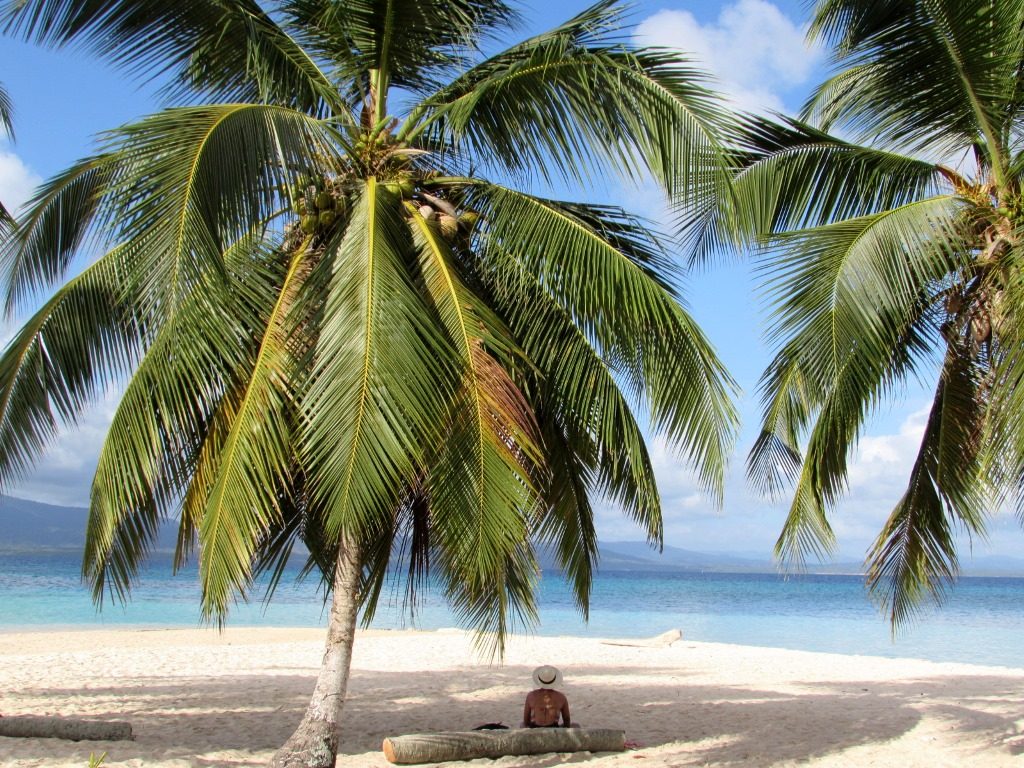 The accommodation is the most important choice of your trip to San Blas, as it will set your perspective of this beautiful destination.
All islands indicated here are amazing and you will decide according to your financial availability and personal interests.
The values include the three meals a day: breakfast, lunch and dinner and some also offer tours included in this price.
# Franklin island
Despite having a poor structure, Ila Franklin is very quiet and has a breathtaking beach!
We enjoyed the atmosphere and the tranquility of the island Franklin and indicate it as a great deal for those who are planning to visit this amazing paradise.
The accommodation costs $ 35 per night in a private cabin and $ 26 in shared cabanas per person.
+ To read our full post about our stay in Isla Franklin click here.
One tip that you need to note is the following: Do not even think about staying in Senidup, the neighboring island of Franklin because they host parties on the evenings, with loud music, which bothers and contrasts with the paradisiacal mood of the place.
However, the curfew at 22 hours is respected by both islands and the rest of the tourists are not affected by it.
For reservations in advance is necessary to call the following numbers:   +507 67884075,  +507 61565711,  +507 6060 3842 and  +507 6 7048456
# Isla Iguana
Isla Iguana is the island that features cabins with a better structure and has the most luxury cabanas in San Blas
The island offers cabins with private bathrooms and bamboo flooring  and the rate for these cabins cost $ 75 per night and include tour to other islands.
You can book by whatsapp by calling +507 6807 2764
# Chichime Island (Weindup)
The Chichime Island is one of the archipelago's largest island and offers nice cabins to its visitors.
Besides the beautiful sea, Isla Chichime attracts tourists seeking an almost exclusive environment as the island is not on the common route of day trips, which decreases flow of people visiting the place.
The cost per person for shared cabana of up to 10 beds room is $ 40 and private room with double bed costs $ 50 per person.
To book, call the phone +507 6517-9850
# Diablo island
Diablo island is a favorite among europpeans  and offers simple huts a great beach.
The rate for private cabana costs $ 40 and includes snorkel equipment and tours, in addition to daily meals.
FOOD IN SAN BLAS
Those who visit San Blas have to eat in the hosting island because there is no restaurant there.
The food is included in the accommodation rates in San Blas and three meals are served daily: breakfast, lunch and dinner.
Breakfast is served 7 am, lunch 11:45 and dinner 17 hours, with a long  interval between meals, so take snacks for the morning and afternoon. Read our post about how to pack a survival kit to visit San Blas.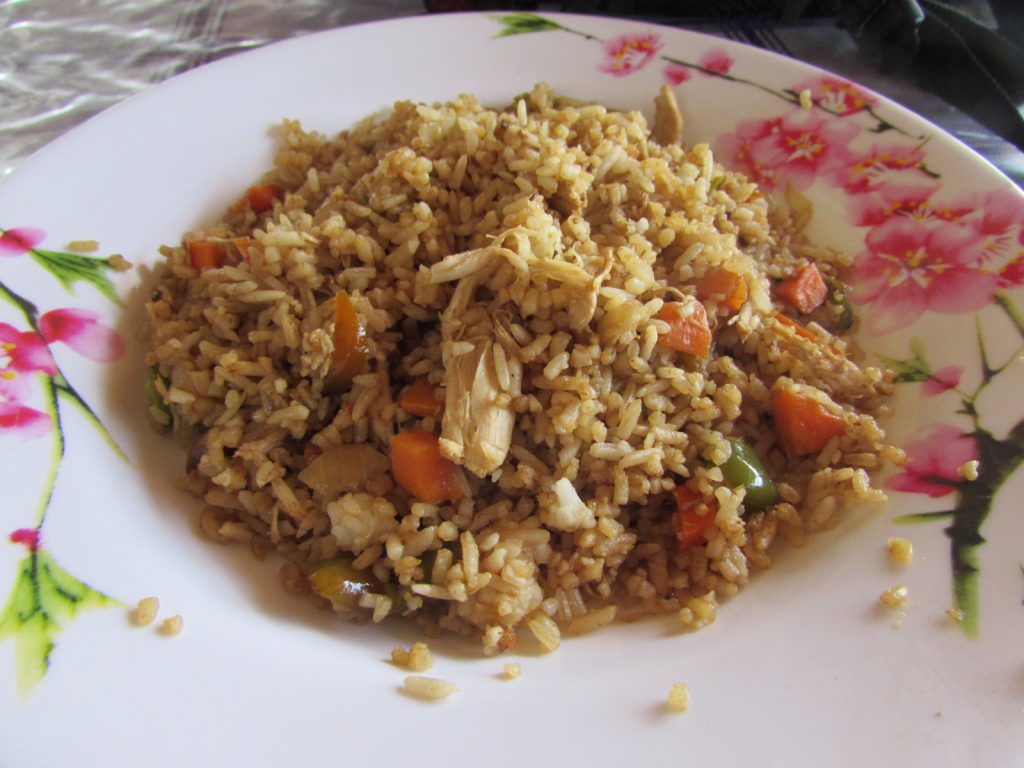 The meals are simple but tasty and usually include fish, rice, salad or fries.
The breakfast usually includes eggs and bread with coffee and tea. Do not expect a fine dining, but know that the food is just fine!
THINGS TO DO IN SAN BLAS
The archipelago of San Blas has 365 islands, most of which are well preserved and features breathtaking beaches.
You will certainly not be able to visit 10% of them, but you can focus on the most popular and visited by tourists,
Dog Island, Franklin Island, Iguana Island Grass Island, Pelican Island, Chicheme Island (Weindup),  Starfish Pool and Cayo Holandeses are the best islands to visit.
WHAT TO TO PACK FOR A TRIP TO SAN BLAS
To alleviate all the "difficulties" of staying in San Blas islands, the best strategy is to prepare and organize your luggage in order to avoid problems and maintain your safety.
Shopping in Panama City
A very important tip we can give to those who are plannin to visit San Blas is to shop in advance while you are in Panama City.
That is because in San Blas you will only be able to buy basic items in the grocery stores and also because it will save for buying the itens at the supermarket in Panama City as the products are overpriced in San Blas.
Check out our shopping list and plan your trip in advance.
# Food
There is no refrigerator in San Blas, therefore, do not take foods that need to be cooled, such as dairy products, for example.
The ideal is to take snacks for mornings and afternoons in the long interval between meals.
On the Franklin Island it is offered 3 meals, breakfast (7:30 am), lunch (11:30 am) and dinner (17:30). Between meals, it is a good idea to have snacks with you to avoid hunger🙂
We had banana chips, pringles, some candy and nuts to maintain a balanced diet. In Panama City supermarkets you can find options for all tastes and budgets, so just choose!
# Water
Potable Water is an extremely valuable item in San Blas!
If, like us, you intend to spend a few days on the island, take plenty of wate with your. At least 2 to 3 gallons per person.
Yes, it migh be a bit complicated to carry a significant amount of water on the way, but with a little good will and disposition everything can be done.
We took 4 bottles of 6 liters for San Blas and it was not enough for the 4 nights we spent there, because also used mineral water to supplement the personal hygiene 🙂
We ended up buying gallons of water on the island's small store and each costed 5 dollars.
# Sheets and towels
We took our own sheets and towels to Isla Fraklin and we strongly advise you to follow our advice.
These items are offered by the Kunas, however, they are of poor quality and dubious hygiene.
As our plan was to stay 4 nights on the island, we decided to take our towels and sheets and it was an excellent choice!
We bought these items in Panama City, specificaly at shooping Albrook Mall and spent $ 5 on each towel and about $ 15 on the sheet.
# Cutlery
Although the Kunas offer cutlery for tourists in the meals, we chose to take our own cutlery.
It was a great choice and  we indicate that you also take your.
Just like the sheets and towels, we bought the cutlery in Panama City and costed about $ 1 each pair of knife and fork.
# Insect and Bug Repellent
The insect and bug repellent will be your best friend during the nights in San Blas.
If there is a sigle item that you can not forget to put in your suitcase is the repellent and it is perhaps even  more important than aswimwear!
Take enough and if you think it is too much, double the dose because you will have to use it many times during the night.
# Flashlights
The flashlight is an essential item for anyone traveling to San Blas, as the electricity will be there untill 22 hours and then if you want to stay up or even go to the bathroom, you need flashlight to help you on this task.
Shopping in the islands
It is important to note that in Franklin Island there is a small store where some foods and beverages such as water and beer are sold.
All items are charged in dollars and they cost little more than they would cost in Panama City.
There are beers, wines and mineral water to drink and snacks such as pringles, chocolates and biscuits to eat. Do not expect a great variety, but know that in an emergency you will not starve.
Expect to pay $ 5 for gallon of 6 liters of water, $ 2 for a chocolate and $ 3.50 for a pringles.
SAFETY IN SAN BLAS
We felt extremely safe in all our 4 night in San Blas, even sleeping with an open door every nigh.
During the day our cabin had the door closed without any lock, but nothing disappeared or was disturbed.
However, we always prefer to prevent and take some basic care, so we took two knives to the island with us, which we left under the pillow at night, just in case it was necessary to defend ourselves.
Although I think you will not need to use this kind of action, we suggest that travelers take self defense objects , because you never know what's going to happen, right?
HELPFUL TRAVEL TIPS

It must take a passport to San Blas, as this is an autonomous territory under the direction of Kunas, which make the border control at the post of Congress General Guna, being necessary to submit your personal document to get in the region.
Take money in cash and calculate about 50-70 dollars a day to take tours on the islands. It is important to take small bills to to facilitate your purchases there.
The only network that operates telephone signal in San Blas is Movil, but we strongly advise tou to  relax and enjoy a forced digital detox!
Take dramim or other medicine against seasickness on the way to the port of San Blas.
Take good books with you and sarong to relax on the beaches, because there is not much to do.
HOW MUCH COST A TRIP TO SAN BLAS
Keep in mind that San Blas is a cheap destination and that you can enjoy the best of Caribbean paradise on a budget.
We set the estimated budget for a regular trip to San Blas and please be sure to add add 50-100 dollars to ensure a smooth trip and to make extra purchases such as snacks and beverage on the islands.
Although the low costs are a great reason for visiting San Blas it is not the only one. Check the post with all the reasons to visit San Blas
Transportation to the "port" – Around  $ 50 and 60 a return trip
Speedboat to the island – $ 20 a return trip
Taxes and fees of the region Kuna Yala – $ 21 per person
Accommodation in Franklin Island – $ 35 per person in a private cabana and $ 26 per person in collective cabana. These prices include three meals a day.
Tours – $ 10 to 20 per person and may vary with the number of passengers and the tour destination.
Extra costs –  the only extra expense you may there is with snacks and water.
SHOP OUR FAVORITE PANAMA INSPIRED LOOKS!
<!– COLLECTIVE WIDGET CODE END —