Are you planning a trip to Santiago and does not know in which neighborhood to stay?
Do not worry, we wrote this post to help you with a detailed Santiago's neighborhood analysis and lodging suggestions for each area.
But first, you should know that Santiago, the capital of Chile, has 26 districts, and each has its specific features. Some of these districts are good areas for tourists and others do not.
To decide the best option for your trip read our post and check what are the areas most suitable to stay according to your profile.
Be sure to check our post indicating two apartments in Santiago Airbnb we tested and approved!
Downtown – Centro Santiago 
The center of Santiago is close to many of the tourist attractions of Santiag and it is situated in a very busy shopping area.
This area of the city is located between the Mapocho River and the Alameda and was the place where the Spanish conquers arrived and began to build the city surrounding the Plaza de Armas.
Because it is a historic district, the center of Santiago is a good area to stay, but do not expect originality or charm.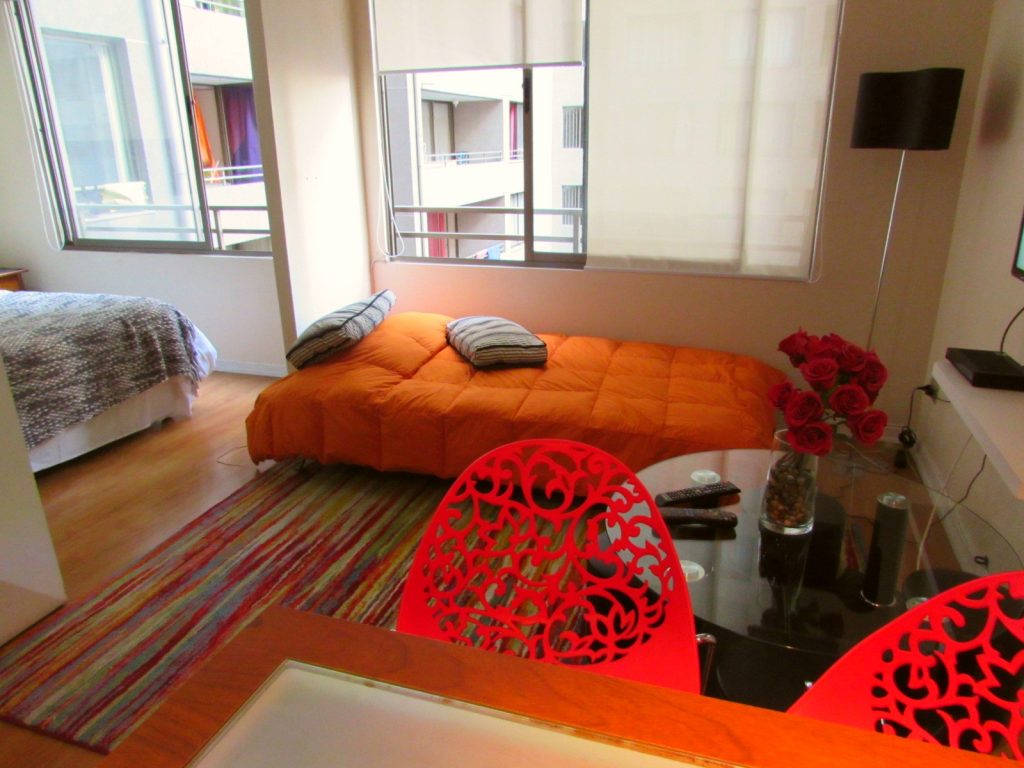 We stayed 4 nights in the center of Santiago in an interesting region, near to the subway station and enjoyed the experience. It was easy to walk to most attractions and also find restaurants and supermarkets in the vicinity of our apartment.
However, we had a 2 – night experience in Bellas Artes before traveling to the Atacama Desert and we can say that the neighborhood is much nicer than the center.
But if you are looking for a practical and inexpensive lodging option, you shoulf know that this region will be the most suitable for you!
Check the historic center itinerary to see which are the nearby attractions.
Best hotels: Hotel the Singular , Hotel Ismael 312  and Casanoble Hotel Boutique .
Bellas Artes
We stayed 2 nights in Bellas Artes before traveling to the Atacama Desert and we just loved the neighborhood.
We chose an apartment on Calle Merced, right next to the Cerro Santa Lucía and many restaurants, bars and cafes. We did all the tours around by walking and also used the subway.
This area is close to the Museum of Fine Arts – Museu Bellas Artes, Museum of Contemporary Art – Museu de Arte Contemporanea, Lastarria, Cerro Santa Lucía, Florestal Park and more.
It is a residential area, but there is a good range of hotels and apartments on Airbnb available.
Best hotels: Altiplanico Bellas Artes  and  La Casona Hostel
Lastarria
Lastarria is close to Bellas Artes and is also one of the regions most pleasant and charming to stay in Santiago.
The neighborhood has several options of restaurants, bars, shops, galleries and cafes and is one of the city's gems. 
There are lots of boutique hotels there and if you prioritize comfort and charm you should pick an accommodation in Lastarria without thinking twice,
This is a neighborhood very tourist friendly and is located in the central region, wich means  you can walk and get around by subway to all other attractions in the city.
Best hotels: Los Cumbres Lastarria , Lastarria 43/61  and Lastarria Boutique Hotel
Bellavista
Bellavista is considered the coolest neighborhood of Santiago, and it is where the greatest restaurants, bars and artistic interventions are.
It's a neighborhood with a young and bohemian atmosphere and is also super colorful because of the graffiti that are scattered there.
There you will find Cerro San Cristóbal, the Patio Bella Vista, Pablo Neruda House and many other attractions.There are also many street fairs in the region.
The neighborhood suffers from a lack of subway stations, but you can use this public transport with a short walk through the Pio Nono Bridge.
No doubt, a great location to stay in Santiago.
Best hotels: Hotel Boutique Castillo Rojo , Tinto Boutique Hotel  and Luciano K Hotel.
Providencia
Providencia is a neighborhood very interesting and is located in central Santiago.
There you will find Costanera Center, the Sculptures Park and many  other charming restaurants.
The Vitacura Avenue is one of the highlights of Providencia and it has beautiful buildings and impeccable landscaping.
No doubt, it is a great area to stay in Santiago.
Best hotels: Casa Sur boutique hotel , Hotel Boutique Le Reve  and  Carmenere Boutique Hotel .
Vitacura and  Las Condes
These are the most sophisticated and modern neighborhoods in Santiago , where the rich people lives and visits.
Headquarters of the classy shops, restaurants and beautiful parks, Vitacura and Las Condes are interesting areas for staying.
There you will find several upscale hotels and also a business environment. However, they are a bit further away from the main tourist attractions, but nothing that a subway ride can not solve.
Best hotels: Los Cumbres Vitacura , Boulevard Apartments  and  Ritz Carlton
Recoleta and Patronato
These regions are near to the Bellavista neighborhood, however, are they dominated by immigrants.
There, you will find restaurants and Asian shops, and also  shops from the Middle East and also from other Latin countries.
It is a neighborhood without tourist appeal and that is why it is not the best lodging option in Santiago.