Are you planning a trip to New York in winter? Check out this Travel Guide with all travel tips you need to enjoy the city.
There is no other way to put that: Some people love and some hate the winter in Big Apple, but the truth that no one can deny is that few cities are so beautiful all covered in snow as New York City.
By reading this post you will understand why the season is extremely controversial and at the same time very celebrated by tourists. Also, you will find meaningful travel tips from us, who visited NYC during winter and absolutely loved the experience.
TRIP TO NEW YORK CITY IN WINTER

First advice: Before you start dreaming about traveling to New York in the winter, you need to know that the city gets really cold, especially in the months of December, January and February.
After reading this statement, you must be wondering: how cold can it get?! The answer is very, very cold, and there is also the wind chill that makes the bellow zero temperature fells like north pole.
To give you an idea of how cold it is New York during winter,we felt much colder in the city than at the top of the Alps Mountains!

That said, it is normal to get the following question from you: Will I be able to enjoy a trip to New York in the winter? The answer is yes, no doubt. A trip to the Big Apple in winter is unforgettable and entirely feasible, but you should keep in mind some important travel tips to make the most of the experience.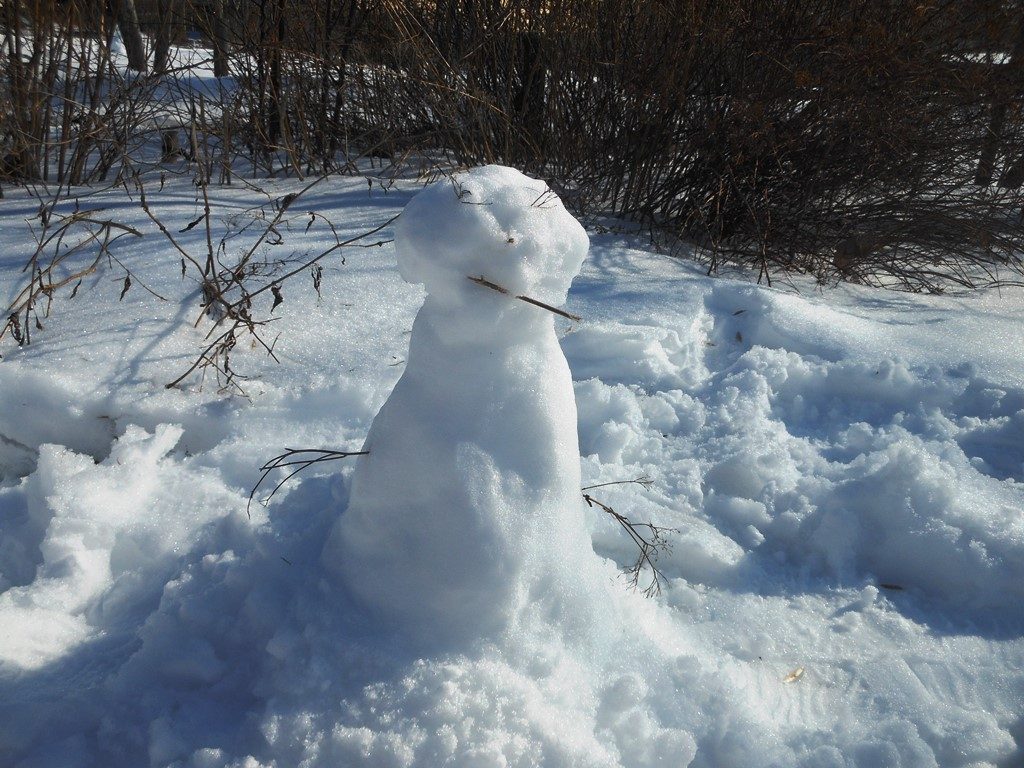 We spent 4 days in New York earlier this year and we faced it all, from snowfalls to icy winds sensations and we can say thatas long as you dress properly, you will not have any problems and will live amazing moments that will make you fall in love with the city.
We actually didn't feel cold and that is because we were very well dressed to face the low temperatures of the season. This means that if you are thinking of visiting New York in the winter, you will need to invest in some essential gear for the trip and we will talk about it later in this post.

We also need to demystify the argument that it is impossible to go for outdoor activities in New York during winter as some people claim that the only bearable activities to do would be to visit museums, shops and restaurants.
Of course you will visit many of these places, but if and when you want . In our experience, we could normally go for all the tourist activities in New York in our trip and of course we had to give up some others.
For example: unfortunatelly, we couldn't stand to cross the Brooklyn Bridge because the cold was really bad and that was our great frustration of the trip as me managed to do all the rest we planned.
HIGHLIGHTS OF NEW YORK CITY IN WINTER
New York has many must – see attractions, some of which are even more magical covered with snow.
When visiting the Big Apple in winter be sure to:
# Ice skating 
Ice skating is one of the best activities to enjoy in New York during the winter and it can be enjoyed by all travelers, from elderly to children!
There are many ice skating rinks in the city, but the most iconic are the Roliman Rink at Central Park and Rockefeller Center Ice Rink and it is worth checking out at least these two.
You can rent ice skates and enjoy a great time there and do not forget to ask for help if you need instructions for having fun in the ice.
# Walking in Central Park all covered in snow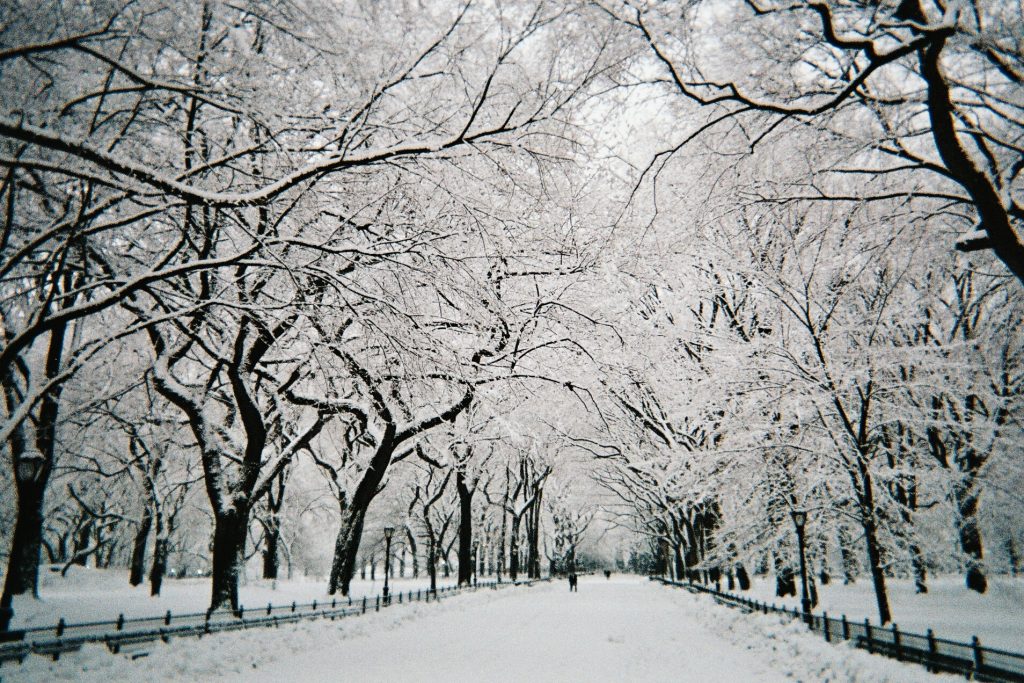 Ralph squatting
The most famous park of the Big Apple is simply amazing all covered in white snow and it deserves daily visits!
You know what? If it starts to snow, be sure to head to the Central Park and we guarantee that few experiences of your life will be as striking as this one!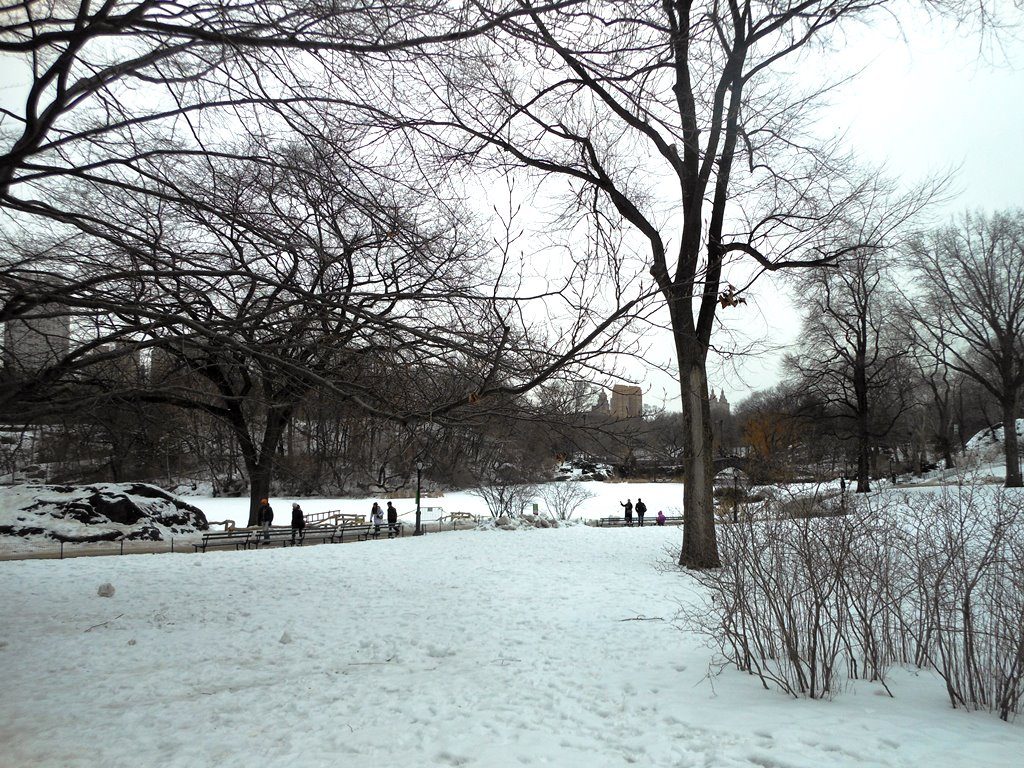 # Visiting Brooklyn Bridge Park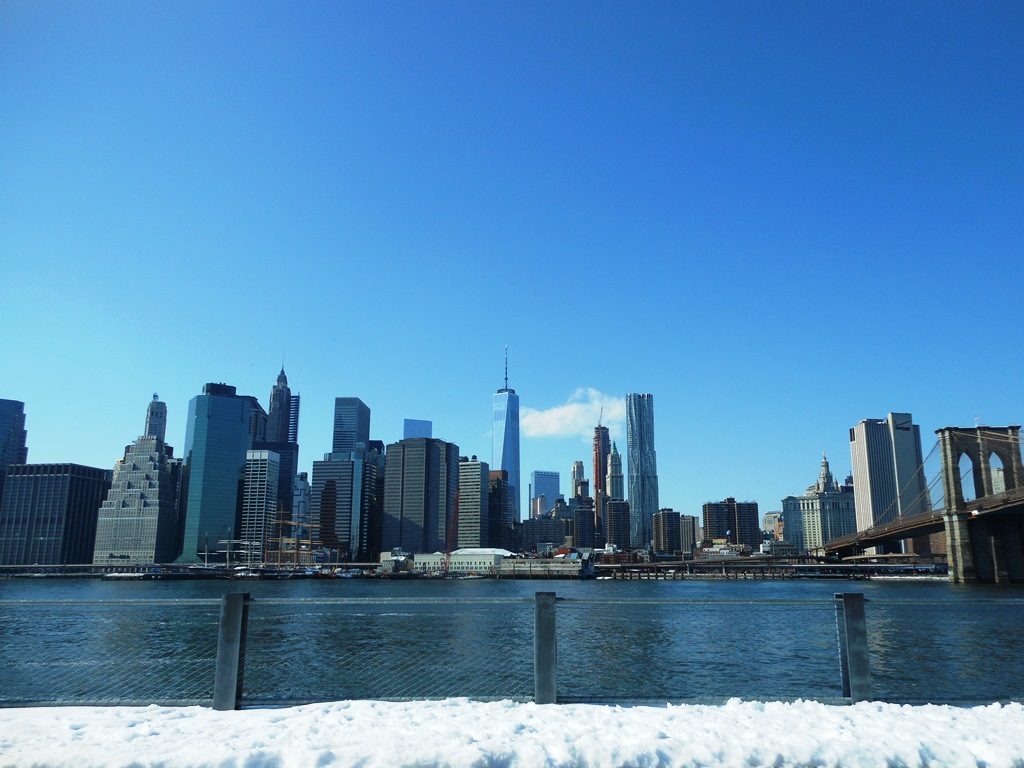 The beautiful Brooklyn Bridge Park is even more charming covered in snow.

# Museums tour
Even if you protect yourself from the low temperatures, you will always feel cozy indoors.
So, enjoy the season to visit the museums calmly, enjoying every detail of the  exposure.
You just can't miss: Natural History Museum, the MoMA, the Museum Metropolitn the Whitney Museum and the Solomon R. Guggenheim Museum – Buy your tickets in advance!
# Visiting the High Line Park
Even though the park features a different aspect comparing to summer, the High Line is still a great attraction to visit in New York in winter.
# Strolling through Times Square and the 5th Avenue
Asterio Tecson
Be sure to walk through Times Square, the busiest street in New York before, during or after a snowfall.
Look for the beauty in the midst of chaos and will see that this will be an extremely rewarding activity!
# Visiting Washington Square Park
The Washington Square Park is undoubtedly a must – see attraction in New York, especially during winter.
#Shopping in New York in winter
Shopping in New York during winter is a great option, specially because there are great sales displayed in all amazing stores.
+ Check out the post about the best stores to buy clothes, shoes and cosmetics in New York City.
MAGICAL MOMENTS IN NEW YORK IN WINTER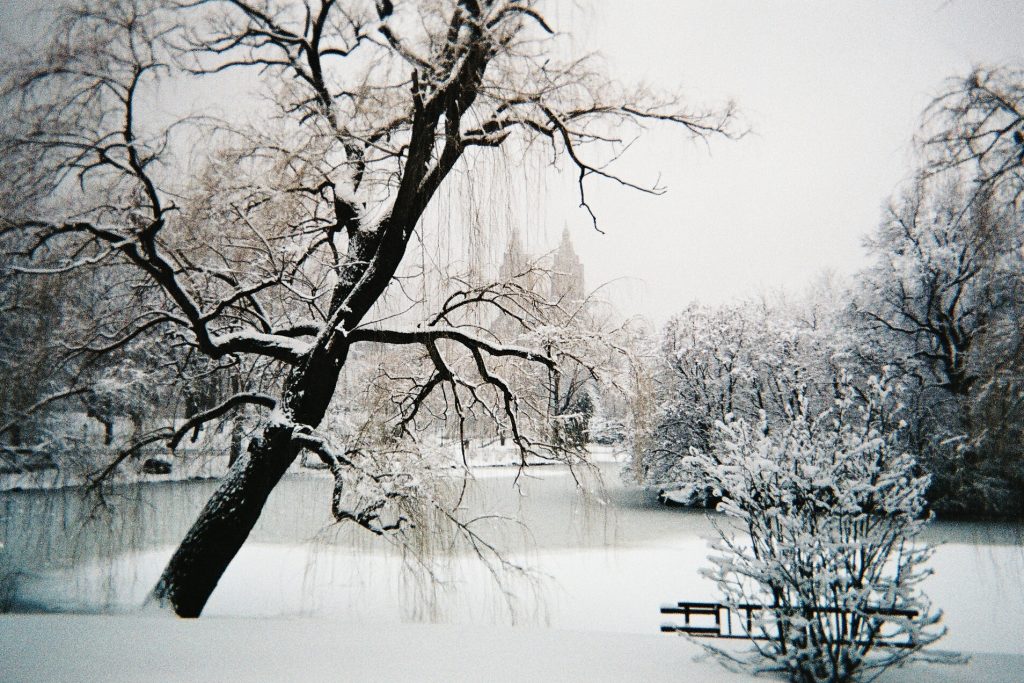 Ralph squatting
New York is even more magical in winter.
The parks covered in snow and blizzards in the afternoon make your trip a great adventure.
# I will never forget a walk in Central Park with snow falling. Silence dominated the place and the scenery was breathtaking, it was a fantastic experience!
# Getting around the region Soho and Little Italy snowcapped was another inexplicable experience, be sure to put it on your itinerary.
# Sit in a cafe is also a guarantee of admiring wonderful landscapes.
# If you are visiting New York during the Christmas and New Year's Eve, be sure to check out the Christmas markets around the city and for the new year book your place on a Rooftop or a cruise on the Hudson. Click here for all the tips and reserve your advance.
They are unique and unforgettable moments that mark not only the journey, as the lives of those who have the privilege to experience a wonderful trip like this.
If you are in doubt whether or not to visit New York in the winter, we suggest you go, it will be an unforgettable trip. Provided you follow our guidelines on dress and rides you get much enjoy the experience.
+ TRAVEL INSURANCE IS FUNDAMENTAL – CLICK HERE TOBUY YOURS AND TRAVEL SAFE!
WHAT YOU NEED TO PROTECT YOURSELF FROM THE COLD WEATHER

To enjoy the trip is essential that you dress appropriately.
to dress properly does not mean putting 30 layers of clothing, on the contrary, it means using the right pieces and by doing so you will need few layers!
You will need a good coat with the following specifications: The waterproof (waterproof), the windproof (windproof) and heated (insulated).
We bought a coat in The North Face and considered it an investment, because we were going skiing after. How wonderful, you have no idea how hot is the coat. We did not feel cold at any time and we had to face several blizzards in town !!
In addition to The North Face you can consider the coats of Columbia and Canada Goose.

Possibly you will not find a good coat with these characteristics in
In addition to the coat you will need appropriate first layers to the cold, gloves, scarf and warm sweaters.
Another essential item is a waterproof boot , preferably with a heating layer inside. We bought our Pajar Boot  store and cost $ 100.00. It's expensive, but it is an essential item.
SHOP OUR FAVORITE WINTER STYLES!