Are you planning a trip to Croatia? Check out in this post the tips of the best beaches in Dubrovnik and enjoy everything that the Adriatic Pearl has to offer.
Dubrovnik is not well known for the exuberance of its beaches, but mostly for its history and the marvelous historic center that preserves testimonies of other centuries.
But that doesn't mean that Dubrovnik doesn't have its attractions for those who want to enjoy the typical crystalline sea of Croatia!
Some of the beaches are known for its bustling cafes and bars, while others are silent bays that will please those who prefer quieter environments.
Whatever is your taste, check here what are the best beaches in Dubrovnik and plan a visit on your trip.
BANJE BEACH
The Banje Beach is perhaps the most famous beach in Dubrovnik and you've certainly must have raved to see this gem in a postcard.
And no wonder, because the beach is beautiful, has a good structure and offers a privileged view of the city walls!
This is also the most accessible beach and Dubrovnik tourist and is located a short walk from the Ploče gate, and you can get there walking in no more than 15 minutes.
It is a good beach for families, couples and is well administered by the East-West restaurant-club.
But keep in mind that these facilities have a price and to rent a lounge chair, use the showers and rent jet skis will have to pay considerable amounts of money.
However, if you want privacy and economy, just walk a little bit and find your place in the sun on one of the rocks like this tourist in the previous pic.
SVETI JAKOV BEACH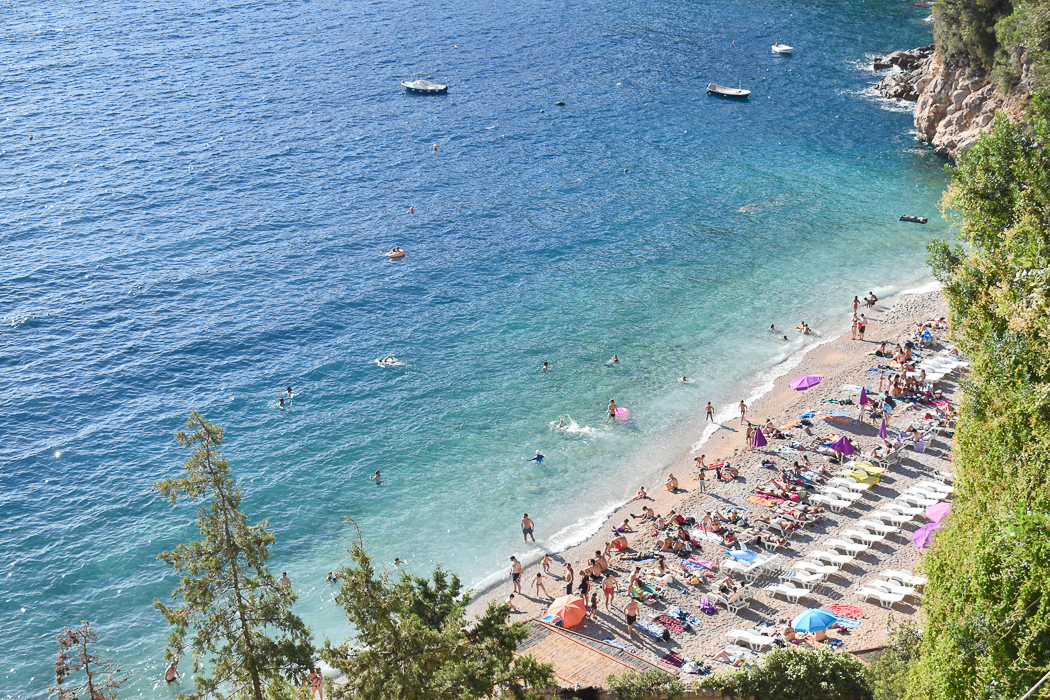 This is locals favorite beach and therefore, it is less touristy and crowded than the Banje Beach.
In Sveti Jakov, you can enjoy a phenomenal view of not only the city walls as well as the coast of Dubrovnik and this is undoubtedly one of the best beaches in the area.
To get there, you must follow the coast in a picturesque walk along a boulevard with pine forests the magnificent hotel Villa Dubrovnik.
There are fewer facilities on this beach and fortunately, fewer people too, however you will find a restaurant bar serving snacks and drinks and the convenience of using sunbeds and shower!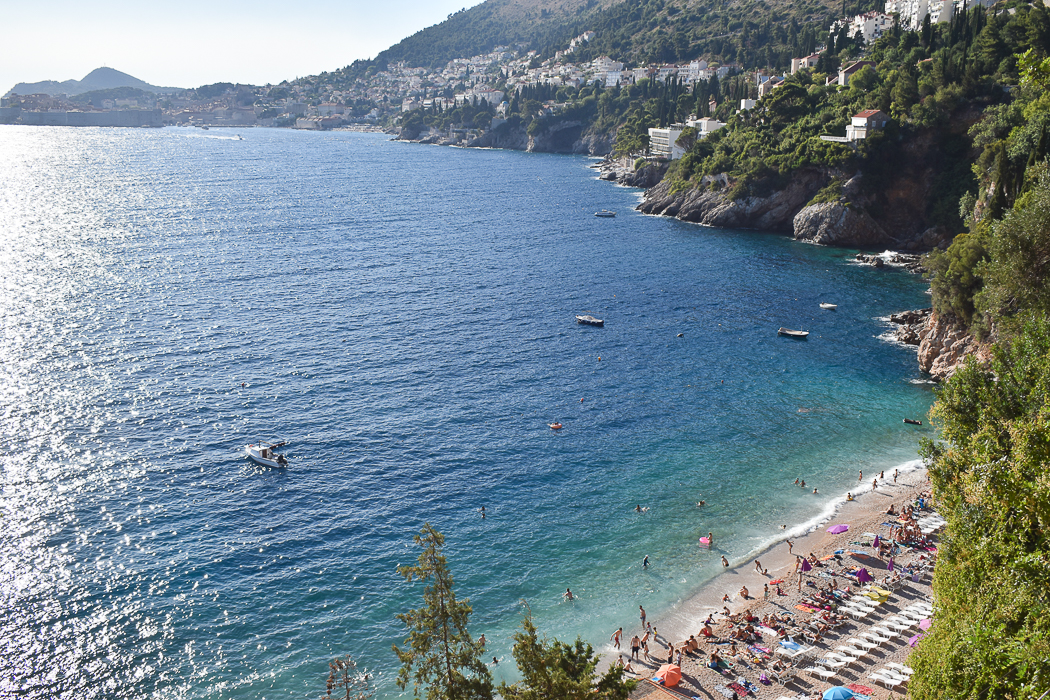 The beach access is via a long staircase and therefore it is not a good choice for seniors and people with walking disabilities.
It is good to know that the sun shines until late in Sveti Jakov, bathing the Old Town with a golden light and making such an unforgettable scenery!
PASJAČA BEACH
The  Pasjača Beach is not technically located in Dubrovnik but in the region of Konavle, below the village  Popovići which is 30 km from the city and towards the border with Montenegro.
Still, it's a beach so beautiful that it is worth any effort to get there!
In fact,  Pasjača Beach is not only one of the most beautiful beaches in Croatia but also all over the Adriatic Sea and what makes it special is the fact that it is virtually unique.
Yes, the beach Pasjača is one of the best-kept secrets in relation to the beaches of the region and so it is not too crowded like other Dubrovnik.
We do not indicate you to visit the beach by bus because the closest stop is situated kilometers away and a walk there in the hot sun will not be a good experience.
To view the full post with all the tips on the beach and how to get there by car click here.
BETINA CAVE
Wow, just wow to Betina Cave!
This is a small and almost secret beach, a true hidden gem among the rocks of the coast of Dubrovnik and can only be reached by kayak or boat.
It is completely unique, beautiful and quiet, except when the kayak tours arrive all at once.
As one of the most beautiful beaches of Croatia, we suggest that you really make an effort to visit it and we assure you will not regret it!
The best time to visit it is during the morning when the sun casts its rays for a few hours and makes the water extremely clear and blue sea.
Anyway, the most important is not miss this hidden paradise in Dubrovnik!
LOKRUM ISLAND
The island of Lokrum is conveniently located in front of Dubrovnik and can be accessed via the ferry ride from the Old Town of Dubrovnik with regular frequency.
The trip takes 15 minutes and costs 40 Kuna, about 5 euros and as a short trip, it is very common for locals and tourists to visit the island in a day trips to enjoy its beautiful beaches, lush nature!
The island was once a botanical garden has plenty of pine, cypress and olive trees, as well as some other subtropical vegetation that offers tranquility and shade especially during the hot summer days.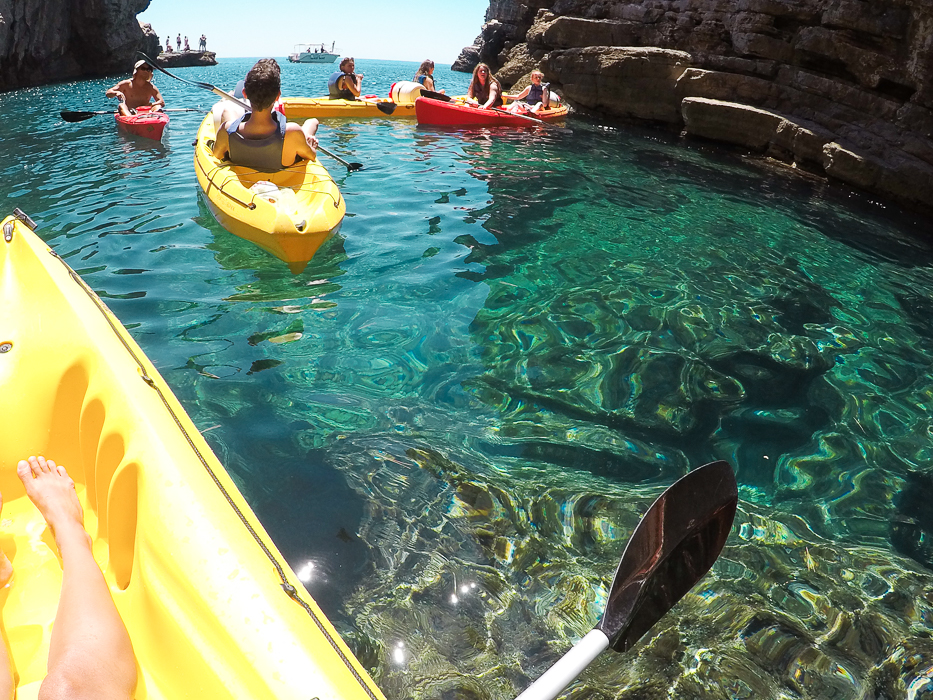 We visited the island with the kayak tour – to learn more about this amazing tour in Dubrovnik click here.
It is worth to take a walk there and visit the attractions and enjoy the wonderful beaches.
Oh, there are many special places for nudists in Lokrum Island!
LAPAD BEACH
This beach is known as a favorite of families as it is public and provides a good structure for children.
With a good supply of sun chairs, shower and featuring calm, shallow waters always supervised by lifeguards, the Lapad Beach is a hit with locals and tourists.
But if you're looking for quiet and most authentic beaches, avoid Lapad Beach and instead visit the above suggestions.