When searching about the best beaches in Croatia you possibly did not find any reference of Nugal Beach, am I right?
Such a pitty, because Nugal Beach was without a doubt the most beautiful beach we visited in Makarska Riviera, but the trick is that it is not very popular for being nudist!
So, now it time to tell you that if you are planning a trip to Makarska Riviera is important to know that there are many nudist beaches or partially nudist in the region. And that is an important information in case you want to avoid or even plan a visit to this kind of beaches🙂
To identify which are beaches are nudist, always look for the letters "FKK" , indicating that they are legally accepted public spaces for the practice of nudism.
But of all the nudist beaches of the region, the most amazing and unforgettable it is the Nugal, because it offers not only a jaw-dropping scenario, but also a special privacy that you will not find anywhere else.
This is due to the fact that the beach is protected by a rock wall and to get there visitors need to hike for  about 30 minutes. The difficulty in arriving to the beach means that you can enjoy the experience with more much more privacy and respect.
Although considered exclusively nudist, actually no one will force you to get naked there and you can keep your swimsuits there, but it is important to know that possibly the majority of the people that goes there will be practicing nudism and therefore you should respect the environment.
So, if you have the desire to experience a nudist beach experience, we suggest you to visit this beach, as it is not only beautiful but also features a very pleasant family atmosphere.
Persuaded to visit? Check out all the tips on how to get there and remember that those tips are very valuable, as this is a very exclusive beach.
GETTING TO NUGAL BEACH
Nugal Beach is also called the Beach Plaza in Makarska Riviera  so you should be aware of signs with both references.
To get there, you need to hike for about 30 minutes with and that there are not many signs indicating the path.
Before visiting the beach, we found on the Internet the information that it is possible to get to Nugal beach comming from the center of Makarska or Tucepi.
But, we decided to risk it and cut the way, because the trail from the city center lasts more than 1 hour!
We ended up doing the most complicated way, bordering the sea and we got lost several times, however the suggest way here is much easier and we only found this way on our way back.
So, stop the car at the hotel Tui Blue in Tucepi and follow the dirt road that connects Makarsa to Tucepi. You can not get lost on this way because you will always be seeing the highway on one side and vegetation on the other.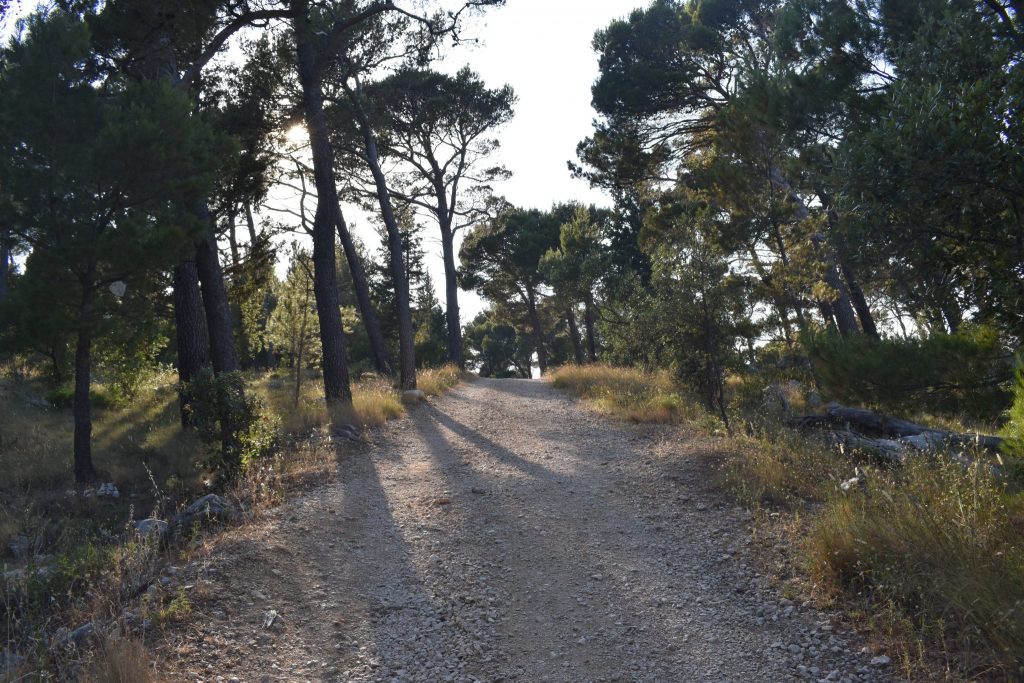 Walk until you find a sign indicating "Beach Plaza" and follow the direction untill you arrive at the bench. By the way, we saw that bikes can make it to this this point, so if come by bike you can park there.
Upon arriving at the bench, follow the trail on the right, but when you get a little further you will see that you can follow two paths, the "Beach Plaza" or Makarska, and should take the path to Nugal.
Walk for about 15 minutes admiring the sea until you will arrive in Nugal to enjoy the paradise!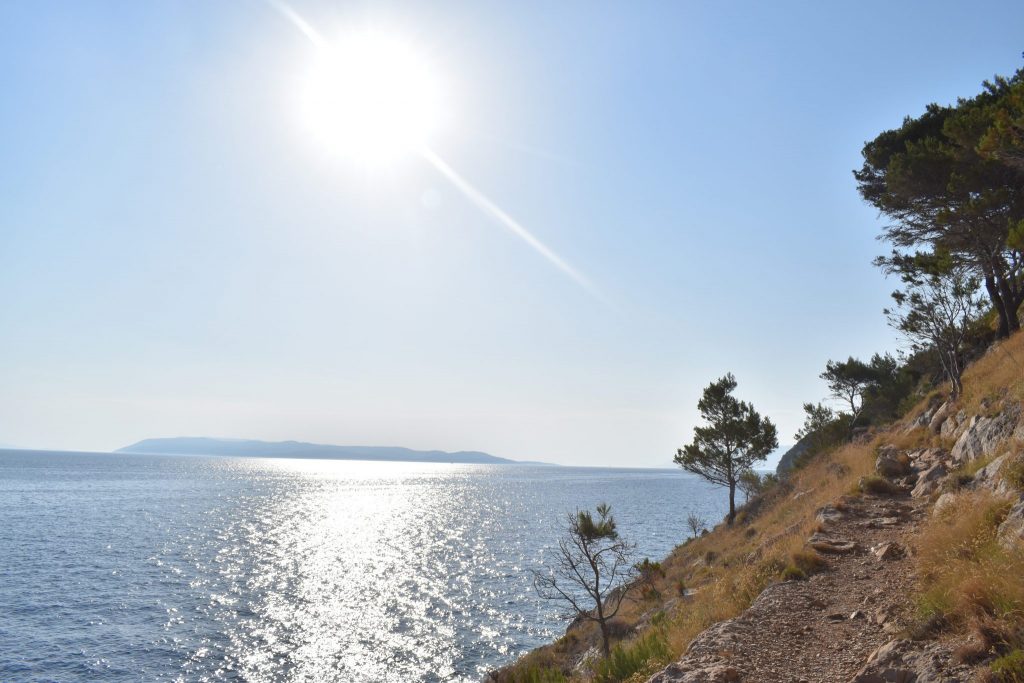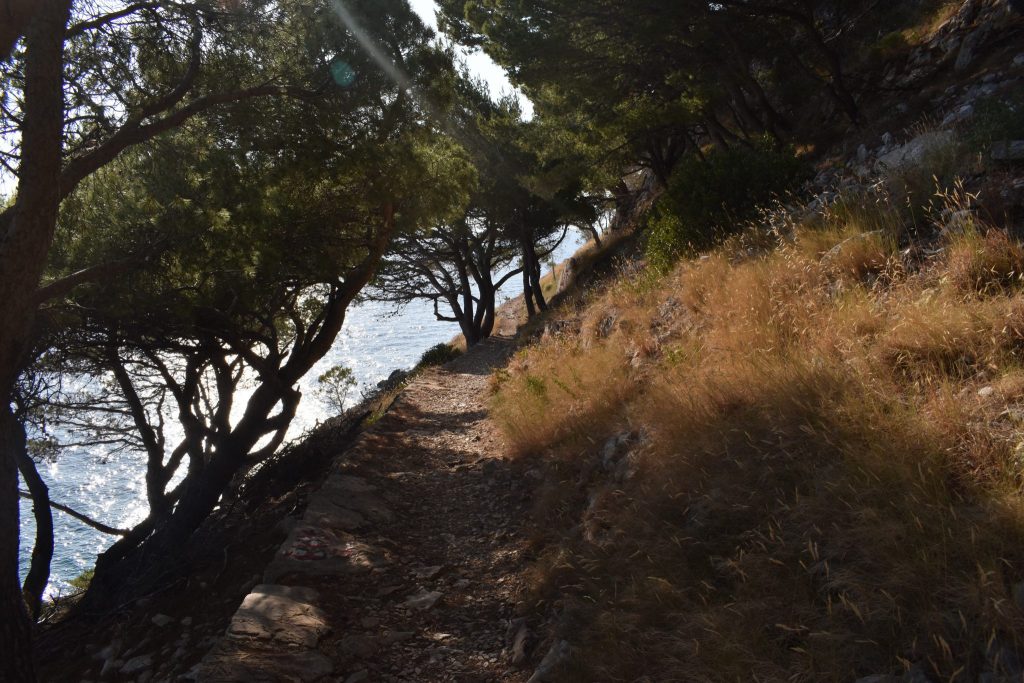 A bolder option is to park the car at the car wash named Samoposluzna painted in red then follow the trail that goes behind this establishment.
I confess that we were afraid of stoping at this place, because we did not find anyone to ask if it was allowed to park there, but if you do find someone and ask if it possible to stop there, keep in mind the trail will be much faster!
TIPS FOR ENJOYING NUGAL BEACH
The first and most important tip is that you should be respectful, after all this is a legally recognized space for nudist and a sanctuary for those who are fan of nudism.
Despite being a nudist beach, we did not see any aggressive reaction towards tourists wearing swimming suits, but keep in mind that it is a nudist beach.
Moreover, it is important to know that there are no restaurants or bars at the beach, so bring your own snacks, food and drinks to eat and drink during the the day.
Ready? Now you may visit this paradise on the Makarska Riviera and have an amazing experience in a nudist beach!