Choosing a hotel in Atacama Desert is usually the hardest part when it comes to the the trip planning process.
There are a lot of hosting offers in San Pedro de Atacama, to suit all profiles and budgets. Therefore, you must carefully analyze what are your real needs and choose consciously the best lodging for your trip.
But if you are not looking for luxury hotel and still want comfort combined with cost-benefit, we have a great tip for you, the wonderful Hostal Pablito.
Newly opened, the Hostal Pablito is an excellent option for those who are seeking comfort, excellent service, good location and friendly price.
This hotel features very comfortable rooms, super kind service and is very well located in San Pedro de Atacama. Interested? Check out the full review of Hostal Pablito.
A HOTEL WITH A POOL IN ATACAMA DESERT
A hotel with pool in the Atacama Desert is a luxury . After all, we are talking about the driest desert in the world!
But let me tell ya, when you get back from the day tours and realize you can cool the intense heat of the desert at the pool you will understand it is actually a need, not a plus.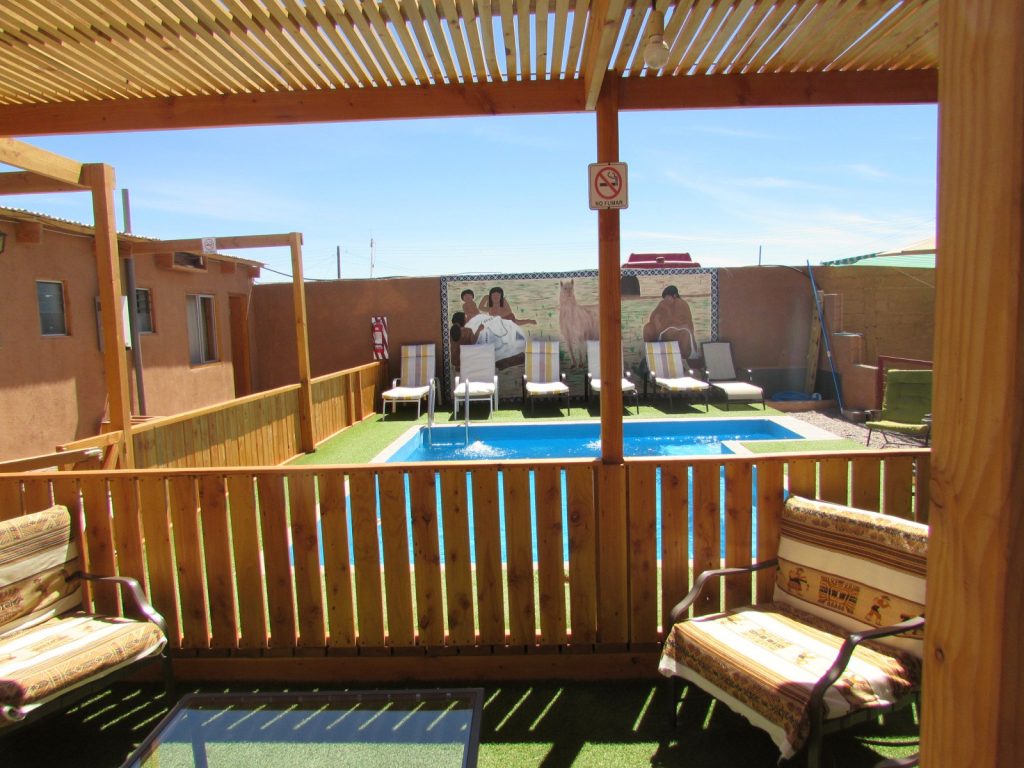 Most hotels with swimming pool in San Pedro are luxurious, however, you can find some budget options with this feature such as the Hostal Pablito, a hotel that offers a charming structure without charging a lot more for it.
Thus, if you have already started planning your Atacama Desert trip itinerary ou must be wondering if you will be able to enjoy a swimming pool since there is so much to see and do over there. And the answer is yes.
Actually, you will notice that most tours are half day long and this means that you will possibly combine two tours on the same day with a reasonable interval between them to enjoy the pool.
There are also whole day tours and for thosetours the van usually drop off tourists on their hotels around 16 hours and considering that the sunset only occurs at 20 hours, you will have plenty time enjoy the swimming pool.
ROOMS AT THE HOSTAL PABLITO
Rooms at the Hostal Pablito are comfortable and spacious and the beds are amazing, with special emphasis on the pillows.

All rooms have bathroom, television and closets and the wifi works well in both rooms and outside areas.
There are rooms for 2, 3 and 4 people and they all feature an exclusive and traditional decoration based on materials of the region.
BREAKFAST AT HOSTAL PABLITO
The breakfast served at Hostal Pablito is free of charge and has several options of fruits, cereals and juices.
You can order scrambled or fried eggs to complement your meal ad the staff will be more than happy to help you!
LOCATION
Hostal Pablito is well located and the city center can be reached within a 10 minutes walk.
In San Pedro de Atacama it is common for tourists to walk around because the village is relatively compact and there is no need to use car or public transportation.
In the surroundings you can find several grocerie stores with snacks and other products. Restaurants are about a 5-7 minute walking from the hotel.
EXTRAS
 The Pablito Hostal is very charming, authentic and there is always water and coca tea free of charge for guests.
The owners, Carmem and Juan are very attentive and despite they live at the hostal they make you feel at home as they provide support for booking tours and information about the place.
Also, Hostal Pablito offers fully equipped kitchen for its guests.
If you, like us, plan to rent a car to explore the Atacama Desert, it is good to know that Hostal Pablito offers some parking spaces for guests.
Jose, the owner of the hostal, helped us with many tips on the desert paths and about driving a car over the desert.
RESERVATION AND CONTACT
Hostal Pablito is an excellent option for those who are looking for a comfortable, well located and with great cost lodging in Atacama Desert.
Reservations can be made through Booking.com – Click here to check availabilities and  rates.
General Review of Hostal Pablito
Location: ****
Cleanliness: *****
Rooms: *****
Attendance: *****
Breakfast: ****
Gay Friendly: *****
Silence: ****
Cost benefit: ****
It is worth mentioning that the prices of lodging in San Pedro de Atacama are much higher than several destinations in the world, especially compared to some cities in Europe.
This is due to the fact that the village of San Pedro is located in an inhospitable environment and all maintenance costs are enhanced. Also, the demand for lodging is extremely high, so book in advance.